All you need to know to turn your idea into a real Business in Germany.

These two-days practical workshop gives you a roadmap to turn your business idea into a real business in Germany or even internationally.

Most of you have different kinds of business ideas and you always think about finding a perfect time to just quit your job and make the second million-euro startup that you always dream of.

In my experience, as international Tech founder in Germany, it is not that much easy. Founding a business as an international has its complexity and you should equip yourself with all the required information before you launch it.
But I have gone all this way with its up and downs. I have received the German government grant for innovative startups and had a great network of investors and accelerators in my startup resume. So I have a lot to share with you about the requirements of starting a business in Germany.

What you will learn?

During this one-day workshop, I will take you through necessary steps of starting your business in Germany from evaluating your business idea, to making your business plan, registering your business, raising money, and starting your business with the correct fundamentals.

Why makes this workshop series unique?

I have a unique story behind these workshops.
I started with a B2C Idea and after many challenges and market research, I pivoted to the B2B market. That means the business issues that will be covered in this workshop series come from the entrepreneur who has worked in both B2C and B2B markets in Germany! I became a member of three amazing accelerators and have great mentors and coaches.
Getting the right information and direction from someone who has tried all the ways before, will help you greatly decrease your learning curve, minimize your period of effort, and give you the best chance to succeed.




The unique Features of this course:

✔ 8 Hours of Live interactive workshops
✔ With real examples and practical knowledge
✔ Industry experienced Instructor
✔ Guest Speaker Session
✔ Multi language Training and Support



Made with ❤️ in Germany


Workshop topics:

What we will discuss
(No Prerequisites)

✔ Idea Evaluation: What you need to know that nobody tells you
– Idea evaluation concept
– Those secret business ideas, Dos and Don'ts
– What I didn't do, but you should do
– Do it at the right time in the right way

✔ Business plan, do you really need it?
– How did I prepare my first business plan
– What did I learn about the required concept
– Which kind of business plan do you need in different stages in Germany

✔ CEO-Mindset: How to recognize, grow, maintain, and improve your vision.
– What is the real mindset that keeps you motivated and passionate?
– Do you have a Why? Let's make it recognizable.
– How to pitch your idea

✔ Join an Accelerator:
– How to do it in Germany
– What you need to know about German Accelerators
– Where is the best place to start

✔ We all need Money:
– Government grants for Startups in Germany, how to make it happen?
– Fundraising: The possibilities, methodology, requirements and processes as an international founder
– Venture capitals or Business angels? My own learning


✔ Business registration:
– Which type of company should you register and how?
– All you need to know that decrease your costs and increase your success


✔ Pitch and networking
– Pitch your idea and know other's feedback
– Network and find your next team-mate/cofounder in Germany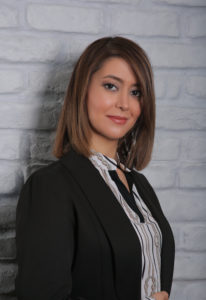 Fatemeh Amiri
Founder and CEO at ComeMit
Fatemeh is the CEO of ComeMit, a German-based Startup which works mainly in HRTech, People Analytics and Employee Experience strategies with AI solutions.
Fatemeh has studied Media Informatics at RWTH Aachen university and has a solid background of founding startups in Germany for more than 3 years.

She also teaches IT and Enterprise Management at IUBH University of Germany and is an international speaker in different Startup and Tech seminars and events.
Weekend Workshop
(English)
✔ 8 hours of Live Interactive Workshop
(On Saturday and Sunday)

✔ 8 Hours of live discussion and Q&A

Fourth weekend of April
30.10.2021, 31.10.2021
10-15pm (CET)

Price: 129 Euro

Weekend Workshop
(Persian)
✔ 8 hours of Live Interactive Workshop
(On Saturday and Sunday)

✔8 Hours of live discussion and Q&A

Second weekend of May
23.10.2021, 24.10.2021
10-15pm (CET)

Price: 119 Euro